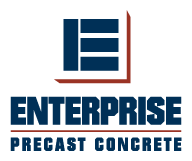 IF YOU CAN DREAM IT, WE CAN DELIVER IT.
Enterprise Precast Concrete is the nation's premier provider of high-quality architectural precast components for a variety of building applications. From architectural panels and custom architectural fabrication, to site furnishings and design/build consultation, Enterprise provides the construction industry with expertise found nowhere else.
We're so much more than just a precast company – we help Architects, Developers and Commercial Building Contractors realize their vision. Along the way, we add value to every project with expert project consultation and analysis. We spend countless hours thinking about what would work best for the long-term success of your project. And we help to solve your most complex problems.
Our indoor plants are equipped with radiant heat, two automated concrete batching plants and a system of production tables and pallets that support custom wooden formwork. The exterior yarding facilities are equipped to handle very large architectural precast.
Our expertise is invaluable to our customers each and every day. No other precast firm can offer you the unique mix of talents and expertise to drive your project to success. Enterprise Precast customers know – our years of experience matter.